round:one
ist die abschließende Verbildlichung eines Albums, das zwischen 2000 und 2004 unter dem Arbeitstitel ensó entstand. Die Mischung aus Radiosamples, Gitarrenriffs, elektronischen Beats, Synthesizern und Zufallsaufnahmen, die sich durch die 13 Titel von round:one zieht, wird in der komplementären Videoarbeit von 2007 endgültig abgeschlossen. Jeder Titel wird durch psychedelisch-abstrakte und rhythmische Bilder begleitet, die nicht wie zu erwarten am Computer digital animiert oder gerendert wurden, sondern entsprechend dem Charakter des Albums, auch rein analog entstanden.
Thematisch changiert round:one zwischen sehr intimen Momenten, die von Mutter-Sohn-Konflikten oder verzweifelten Welterklärungsmodellen (wissenschaftlicher als auch persönlicher Art) zeugen und triumphalen öffentlichen Machthymnen, die im Zusammenhang mit nine-eleven geäußert wurden. Eine Unterteilung des Werkes in einzelne Titel gibt es nicht – Sie werden durch Rauschen ineinander verwoben und übereinandergelegt, so daß sie einem zufälligen Empfang, in der Luft befindlicher Strömungen und Signale zu gleichen scheinen.
Die Betitelung spielt einerseits auf die Stellung des Werkes als erste Etappe innerhalb weiterer geplanter Alben an. Andererseits nimmt es konkret Bezug zu dem Titel des Projektes: "ensó" ist die japanische Bezeichnung für "Kreisform", die in der Tradition des Zen-Buddhismus eine tiefe symbolische Bedeutung hat. Der ensó-Kreis wird in schwarzer Tusche immer wieder mit einem einzigen fließenden Pinselstrich gezeichnet und soll so die allgemeinste natürliche Form des Daseins widerspiegeln.
round:one
is the final visualisation of an album, which was made between 2000 and 2004 using ensó as a working title. The amalgamation of radio samples, guitar-riffs, electronic beats, synths and random recordings, which is dominant in the thirteen tracks of round:one, finds its end in the complementary video work made in 2007. Each title is accompanied by psychedelic / abstract and rhythmic pictures, which have not been created using the computer – in contrary: it is purely analog footage corresponding with the album's own character.
On the one hand round:one oscillates between very intimate moments, showing mother-son-conflicts or desperate theories trying to explain the world (in both scientif and personal approaches) and public hymns of power, expressed shortly after nine-eleven. The work is not split up in separate tracks – they are merged into one another using noise. This amalgamation and batching reminds of a random reception of surrounding vibrations and signals in the air.
The title of round:one focusses the album's position within a series of forthcoming works. It also clearly reminds of the Japanese word for "circle", which has a deep symbolic function in zen-buddhism. "Ensó" as a circle is painted in black ink over and over again using just one single flowing brush-movement. This way it is supposed to reflect the most general and pure form of being.
---
remastered 4K, 2023
3840 x 1545,29 px (Ratio / Verhältnis 2.5 : 1)
(KAPITEL)
01. ASIANTRIUMPHREVERSE20RIG 0:48 MIN
02. GOODBEATWITHPEAK 4:26 MN
03. THEOPTIMIST 4:06 MN
04. BUSHWEWELTENDREAMJANA 10:55 MIN
05. DIVERSITAS 0:56 MN
06. RENÉTELEFONIERTSUMBUM 3:53 MIN
07. DIVERSITASPREMIXGEVOGELT02 14:50 MN
08. BPIANOINTERLUDEFILTER 1:02 MN
09. MUTTERLIEBE1FIL 2:24 MIN
10. WORDSSOUNDCUTFILTERED 5:36 MN
11. THINICEKURTZ 3:39 MN
12. KEYGUIFRICTIONSPOKEN 4:32 MN
13. 0UTRO 1:04 MN
---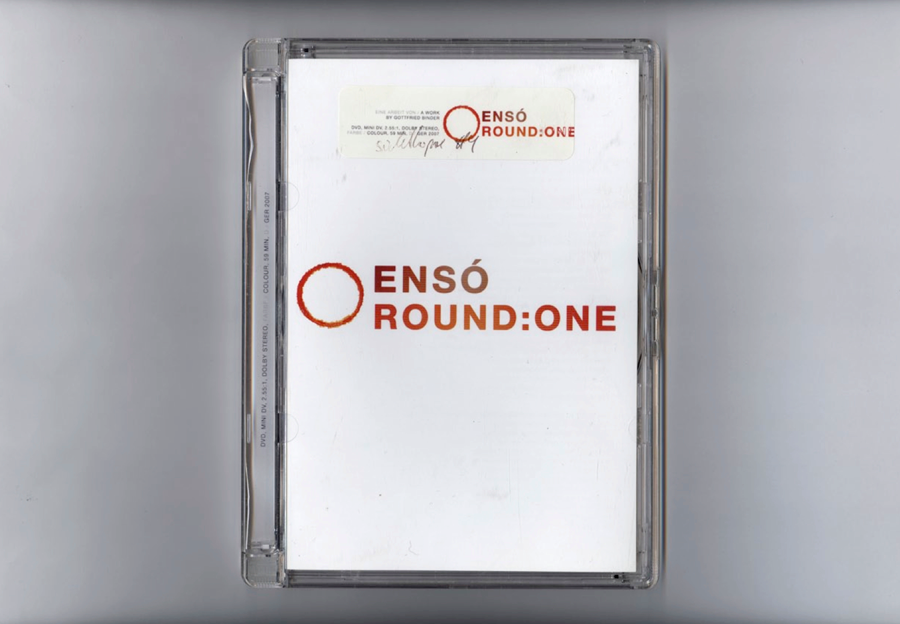 ensó round:one
Mini DV/found footage, Dolby Stereo, 59:53 min., colour, ger 2007 (2023).
---
Country
Genre
Release
Director
Production
Germany
Videoart, Experimental, Audio
2023
Gottfried Binder
caohom, utopmania est-2001
---
---